The APGO Education Foundation was excited to participate in Science Rendezvous in Kingston on May 13th, 2023! APGOEF has attended Science Rendezvous Kingston in previous years, and it has always been an incredible outreach event. 
The day started with opening ceremonies where the official town crier announced the decision to make May 13th, 2023, the official "Science Rendezvous Day." The town crier along with the mayor opened the doors at 10am to allow the crowd of families into the Leon's Centre on the Tragically Hip Way by Kingston's waterfront.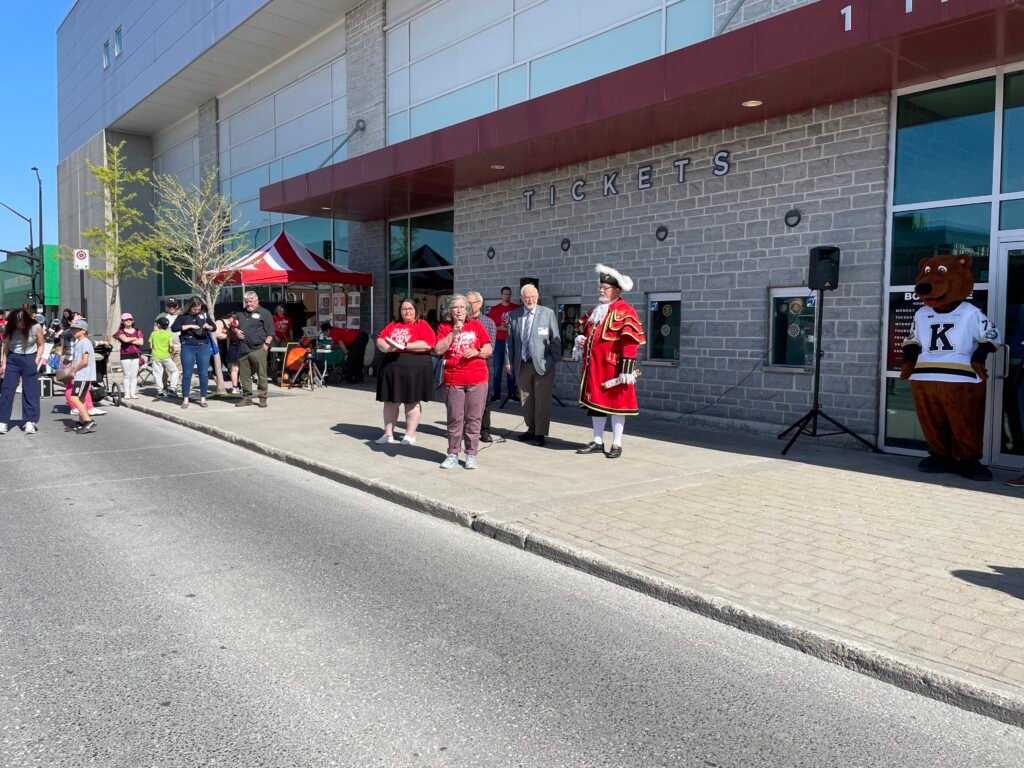 APGOEF collaborated with Mining Matters to create a fun table about the fossils of Kingston! Our booth was right next to the entrance to the Leon's Centre and the crowd was instantly lining up to take a look at our fossils. We had an extensive fossil collection on display; some of which were donated to us by Bob O'Donnell.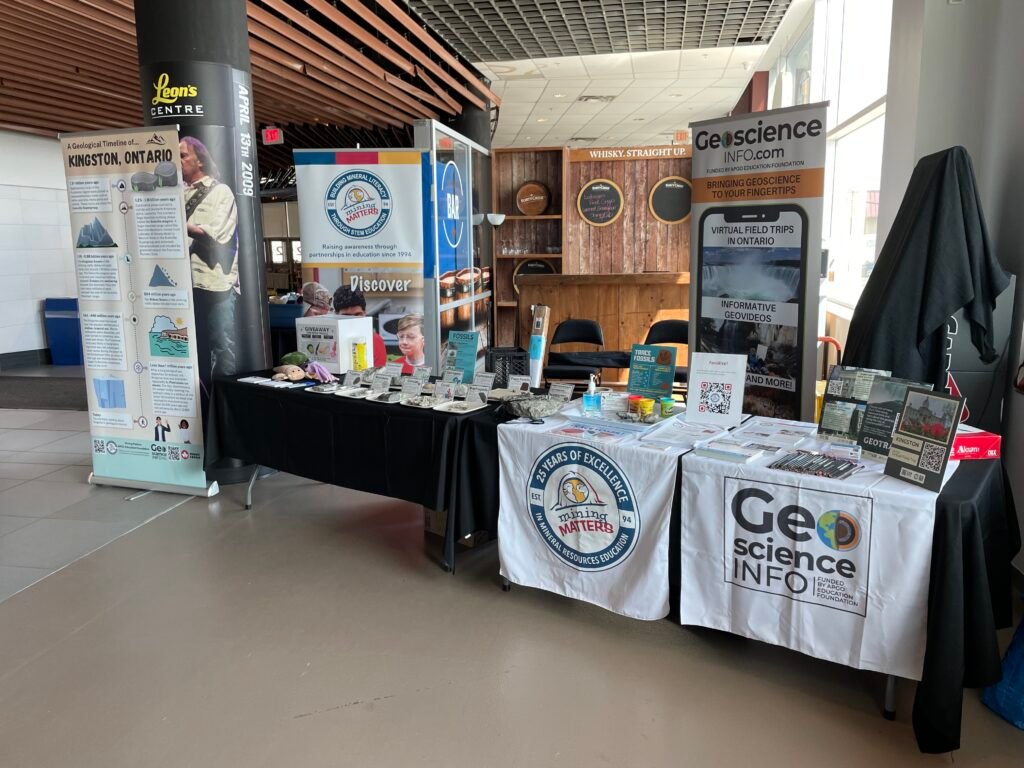 We engaged kids by handing out stickers that said "I love fossils." The kids loved them, putting them on their hands and t-shirts or tucking them away safely into their tote bags provided by Science Rendezvous. We also brought our signature colour-changing pencils, which are always a hit at any event we go to. We showed the children how, if you rub the pencil between your hands, it will change from black to pink or blue! Everyone was obsessed with the pencils and we handed out 500 or more.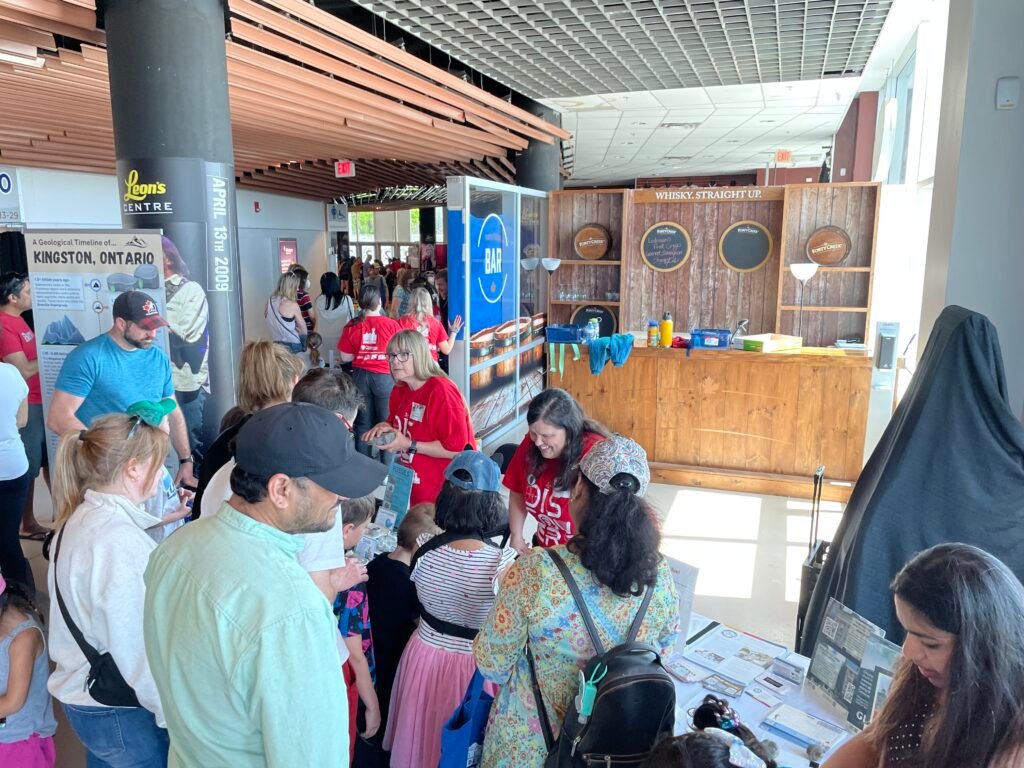 We also had an interactive trace fossil activity with Play Doh. We provided an assortment of invertebrate fossils such as brachiopods, bryozoans, and corals, and encouraged people to press the fossils into the Play Doh and lift them out leaving behind a pattern. These patterns are similar to how trace fossils are made when the organism is alive, and sometimes all we have preserved of an organism is records of its behaviour in the sediment and not the animal itself! We also had some fun trace fossils on hand to surprise kids, such as footprints and coprolites (fossilized poop!)
Once the kids were finished playing with the fossils and Play Doh, they moved further down the table to take a look at some cool fossil samples that could be found in the Kingston area. We explained how Kingston used to be under a massive shallow sea, and how all the sea creatures we see fossilized here used to live in the sea. We encouraged kids and parents to look around the limestones of Kingston to see some of the same fossils that were displayed here.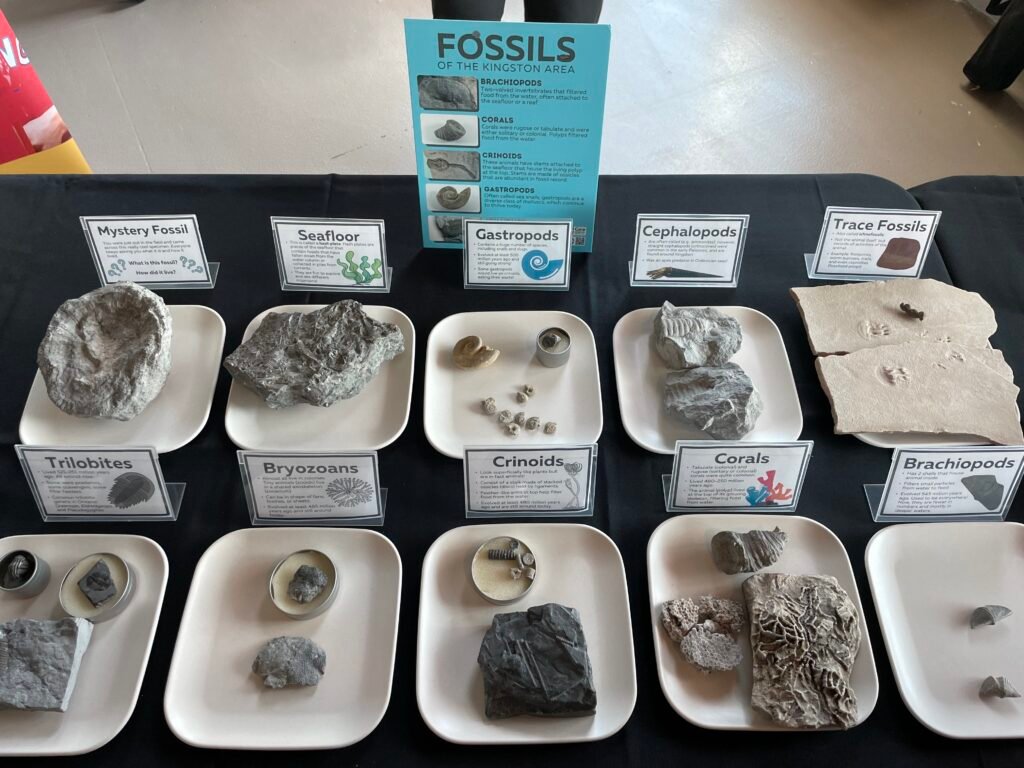 At the end of the table we held a giveaway for three really cute fossil plushies as well as a copy of Four Billion Years and Counting, the beautifully illustrated geology textbook. We had families fill out a slip of paper answering questions about the fossils they interacted with in order to enter the giveaway. We picked three winners from the ballots the following day and mailed them their prizes.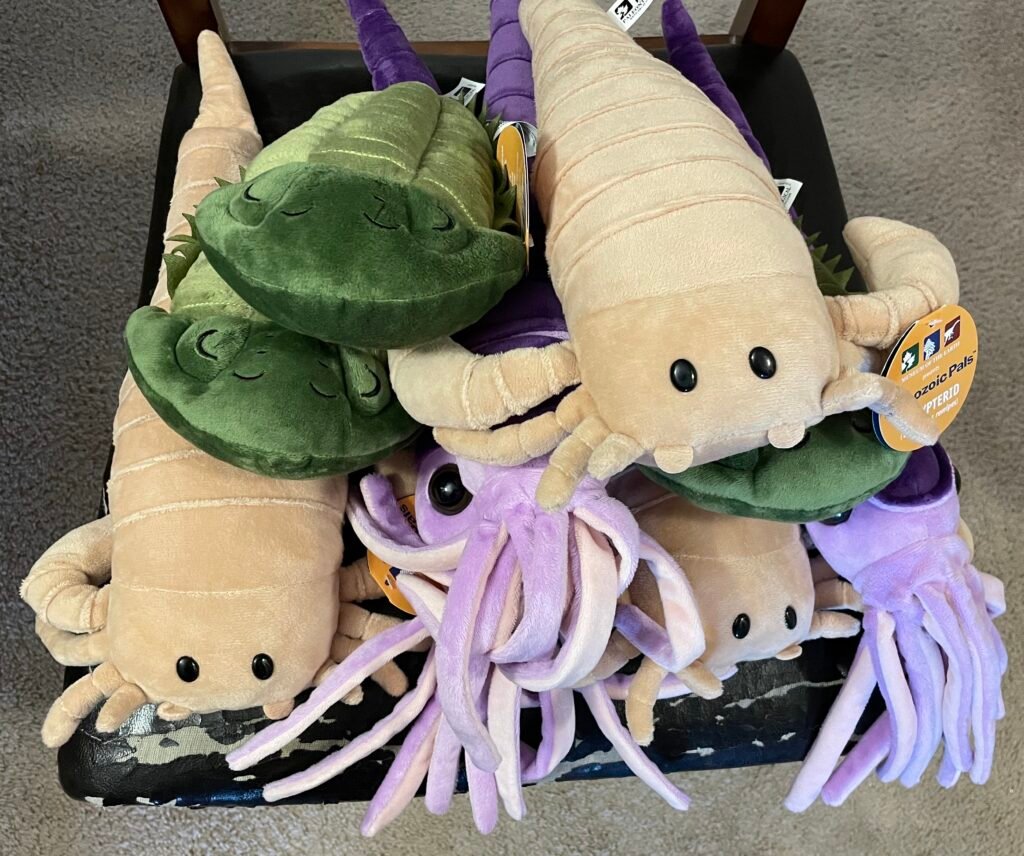 Approximately 1,300 people visited our booth during the 5 hour event. We really enjoyed talking to parents, kids, and individuals about the fossils of Kingston. A lot of the children expressed interest in fossils and some said that they had some fossils or rocks at home already. One child mentioned that he found a fossil on the way to school recently, and a few kids said that they loved dinosaurs. Although we didn't have any dinosaurs at our table (you won't find any dinosaur fossils in Kingston, or Ontario generally), we were still excited to connect with the kids about their passions.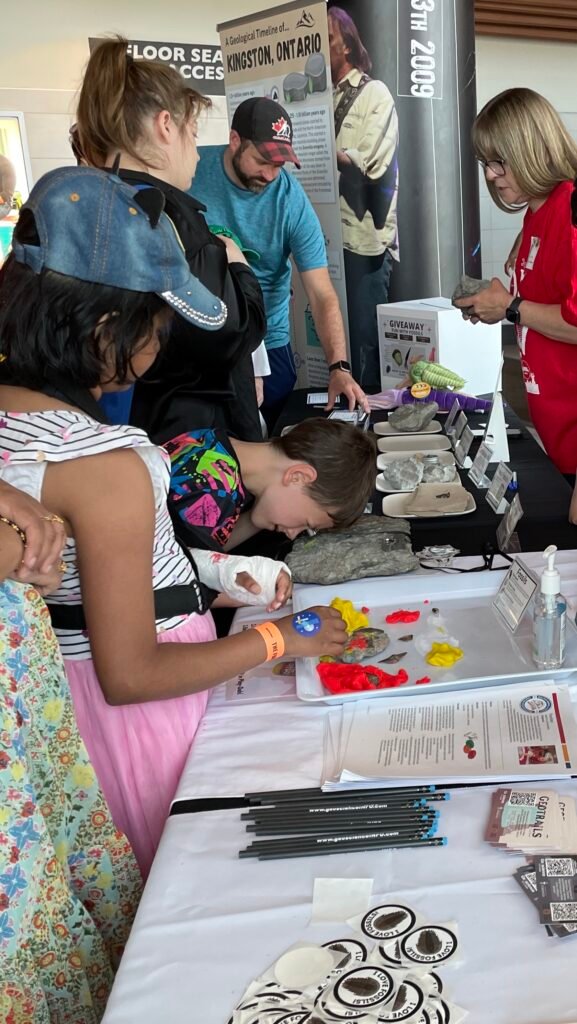 The other organizations at Science Rendezvous all had incredible booths! We did not have much of a chance to walk around and see the other exhibits because we were so busy, but the whole event looked like a big success. 
We would like to thank Science Rendezvous Kingston for having us again this year and for hosting such an incredible event. We also want to thank Bob O'Donnell for donating some of the beautiful fossils that really made our table a hit. We look forward to doing this again in the future!    
---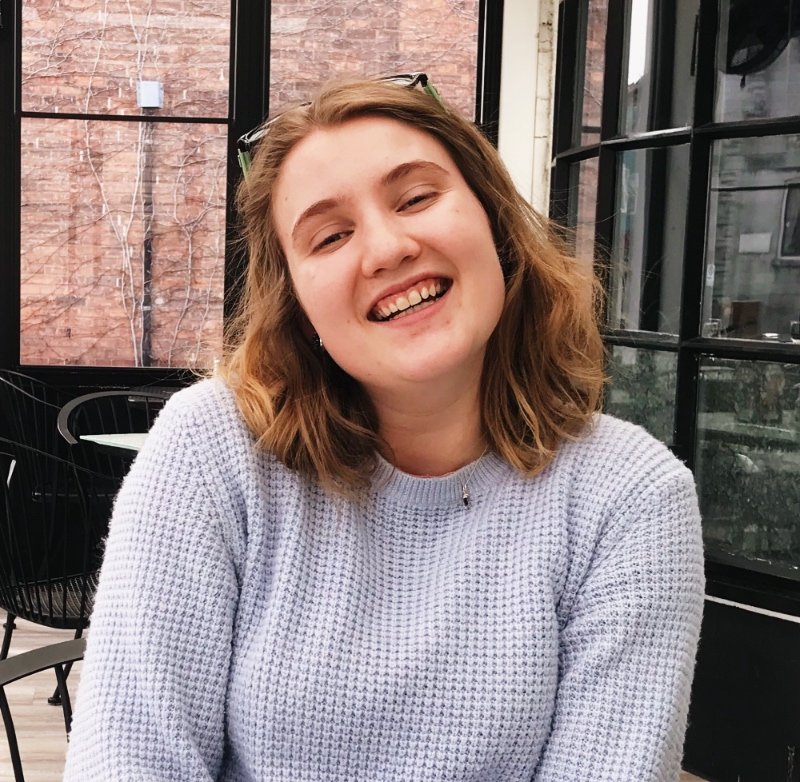 Veronica Klassen is the Manager of the Foundation's blog – Beneath Your Feet: A Geoscience Blog. She studied Arts and Science at McMaster University with a minor in Earth Science and has a Master's in Science Communication from Laurentian University. She is passionate about making science accessible and engaging to the public.