Looking to explore Ontario this fall season? Autumn is one of the best times to grab a warm drink and get outside to appreciate the colourful landscape.
Here's a list of some of the best hiking spots across Ontario. Each of these places has a unique history, geology, flora, and fauna. The fall colours in Ontario are generally best between mid-September and mid-October, but Ontario Parks also publishes a map showing the changing colours across Provincial Parks in Ontario! The fall colour map is updated weekly with current colours at each park, so make sure to check it out before you go!
If you do go to any of these locations, be sure to come prepared with water, snacks, and emergency first aid. Please check the park or trail's website before going to ensure they are open and see if you need to pre-book a parking spot. Some places close late October for the winter season, so make sure to double check that the trail is open before you leave.
In order from south to north, here are the hikes to check out this fall:
Point Pelee National Park
Point Pelee is at the southernmost point in Ontario, and is known for its diversity of ecology and wildlife. The autumn season sees visits from migrating Monarch butterflies on their way south. Visit the park from late August to mid-October in the early morning or just before sunset for a chance to view these gorgeous migrating butterflies. Point Pelee has a diverse mix of ecosystems including the Lake Erie Sand Spit Savannah – a unique mix of Red Cedar Savannah, Shoreline Savannah, and woodland. The difference between a savannah and a woodland or a forest has to do with the amount of light that reaches the undergrowth. In a savannah, less than 25% of the ground is covered by the canopy, allowing light-loving plants to grow underneath the trees. A woodland is defined by 25-50% canopy cover, and more than 50% cover is a forest. 
At Point Pelee you can also find a large marsh home to frogs, turtles, muskrats, snakes, insects, fish, and zooplankton; a swamp forest home to many species of birds, frogs and butterflies; and a dry forest with unique trees and wildflowers. Learn more about the ecology of Point Pelee on the Government of Canada website or on the Ontario Parks Blog. The hiking and walking trails at Point Pelee are also accessible to strollers and wheelchairs. Check out the trail maps here to plan your visit.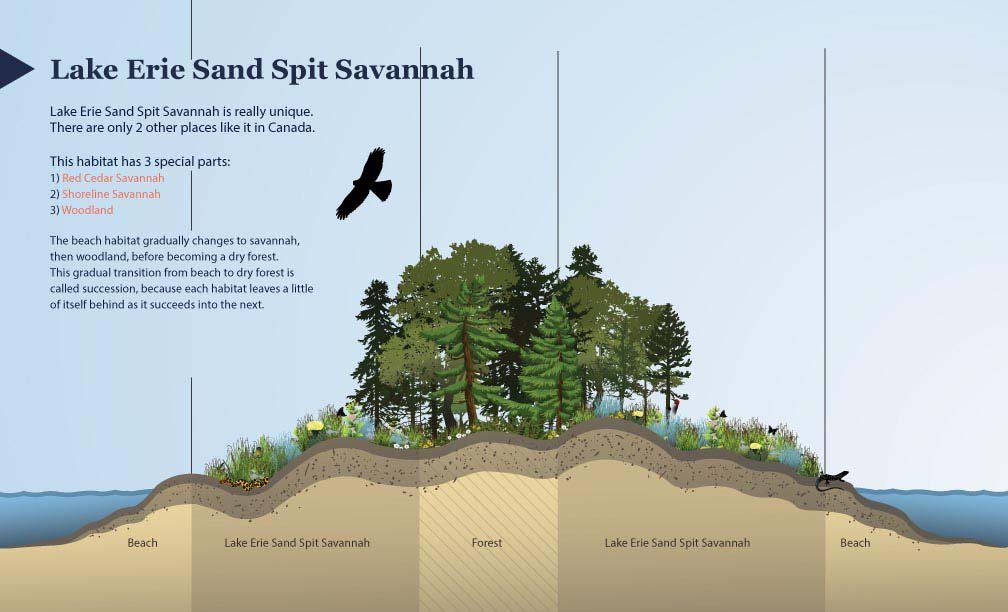 2. Dundas Peak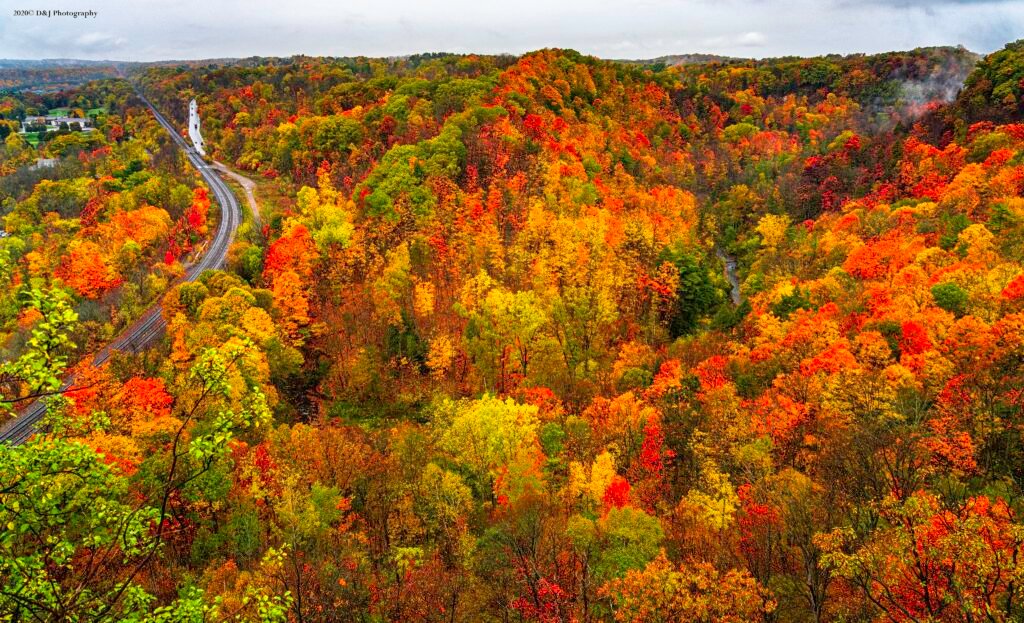 Dundas Peak in Hamilton Ontario is surrounded on all sides by a gorgeous deciduous forest full of vibrant autumn colours. Standing on a large outcrop on the Niagara Escarpment, Dundas Peak overlooks the Spencer Gorge to the cliffs of the Escarpment beyond. Dundas Peak is located in the popular Spencer Gorge Conservation Area, where visitors come to see either the view from the peak or the two large waterfalls in the area. Note that entering the conservation area requires a booked appointment and a paid parking spot. Please read the Conservation Hamilton website carefully before you go, as they have recently made changes to limit the number of people on the trails. If you want to avoid the crowds, local blogger Lauren Yakiwchuk recommends the Sydenham lookout as a good alternative to Dundas Peak with almost the same view.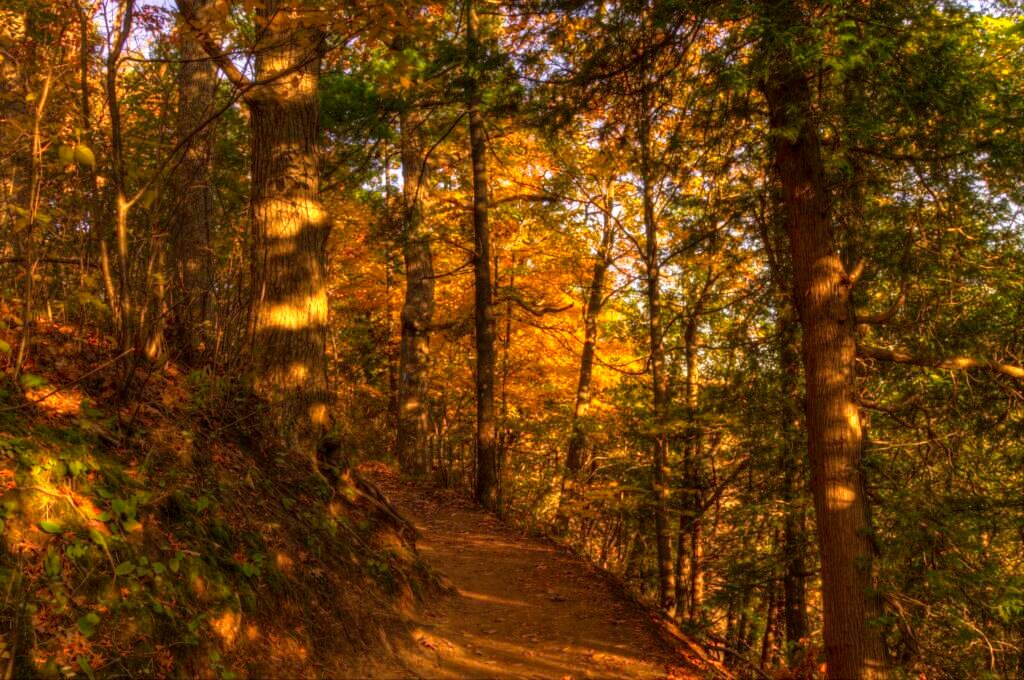 3. Pinery Provincial Park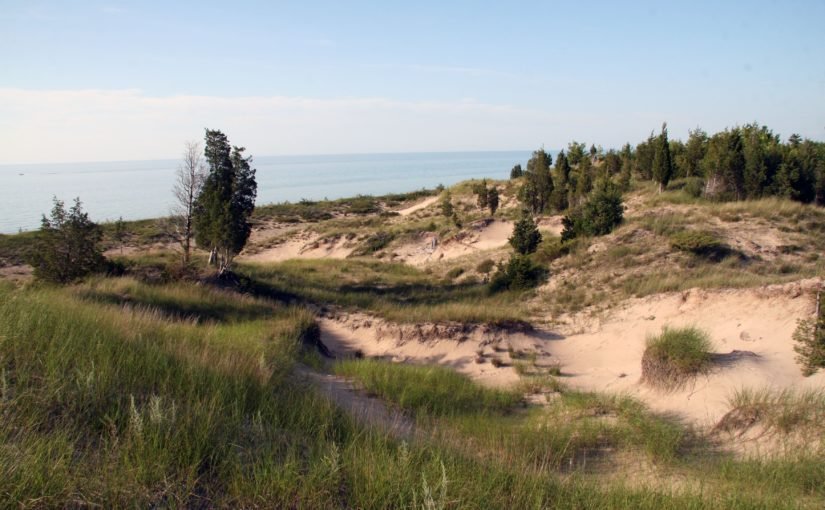 Pinery Provincial Park lies on the shores of Lake Huron and boasts beautiful oak trees. Due to its southern location and the moderating effect of Lake Huron, the trees at Pinery change colour later in the fall season and will be at their peak between mid-October and early-November. Pinery is also home to a very rare ecosystem – an oak savannah.
Not only is the savannah rare, but the very landforms that make up Pinery Provincial Park are also unique. Pinery is situated on sand dunes formed over the last 6,000 years. Did you know that less than 0.5% of Ontario is made up of coastal sand dunes? About 7,500 years ago, most of southern Ontario was covered in one large lake called Lake Nipissing. As Lake Nipissing receded, sand and rocks were moved southward along the Eastern coast of Lake Huron from Grand Bend towards Kettle Point (see map below).
Checkout the Friends of Pinery website for different hikes to try at Pinery.
Creation of Dunes at Pinery Provincial Park. © King's Printer for Ontario, 2019.
4. The Cheltenham Badlands
The Cheltenham Badlands are famous for their unique geological formation. The rolling red rocks were formed 450 million years ago at the bottom of a lake. These rocks, part of the Queenston Shale Formation, were exposed over the years due to poor farming practices that eroded the topsoil. The red rocks match the red autumn leaves in the fall, adding to the magic of the landscape. There is also a 1.4 km hike in the conservation area that takes you through the forest surrounding the exposed rocks.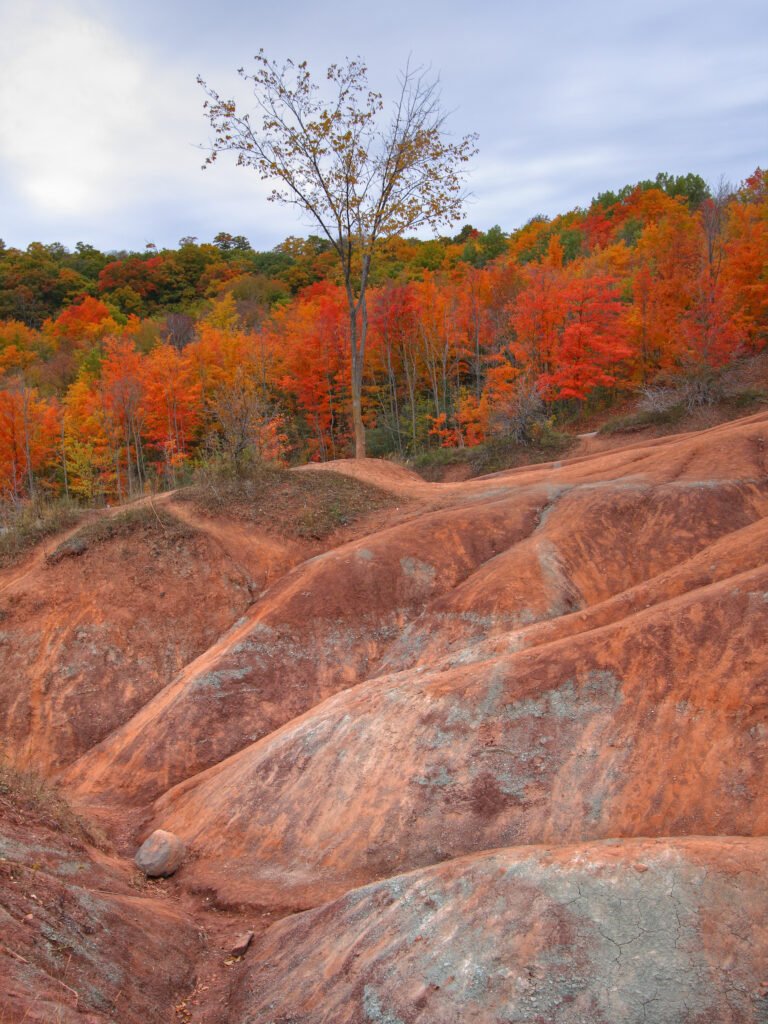 The conservation area was previously closed to the public in order to preserve the rocks, but has since been reopened with a boardwalk over the rocks. The boardwalk is wheelchair accessible and there are educational information signs along it. You can no longer walk on the rocks in order to preserve them and prevent quick erosion of the landform. Make sure to go to the Cheltenham Badlands website to book a spot at least one day before you go.
5. Algonquin Provincial Park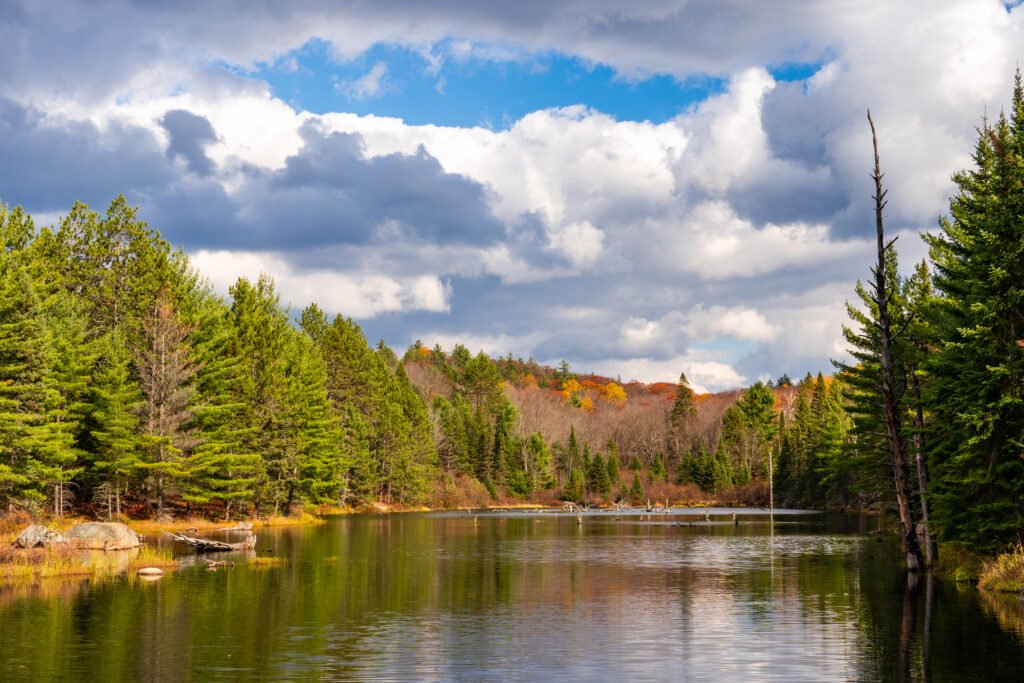 Algonquin is famous for its expansive forest and wildlife. Algonquin has forests of sugar maples and red maples, which turn brilliant orange and red colours in the fall. The colours will be at their best between mid-September and mid-October. There are so many walking trails that it can be hard to choose which one to do. Even if you visit Algonquin many times, there is always something new to see.
The Fire Tower Trail in particular has a great lookout over the fall colours at the end of a fully accessible trail. Or, if you're looking for something a little steeper, try the Lookout Trail which is a 1.9 km loop with a view over the large colourful forest. An even longer hike, although still very popular, is the Centennial Ridges Trail. This 10 km loop has a summit near the end with a view over Whitefish Lake. If you don't have the time to complete the whole loop, try walking up the return loop, which will take you to the summit faster and you can turn around after you reach the lookout.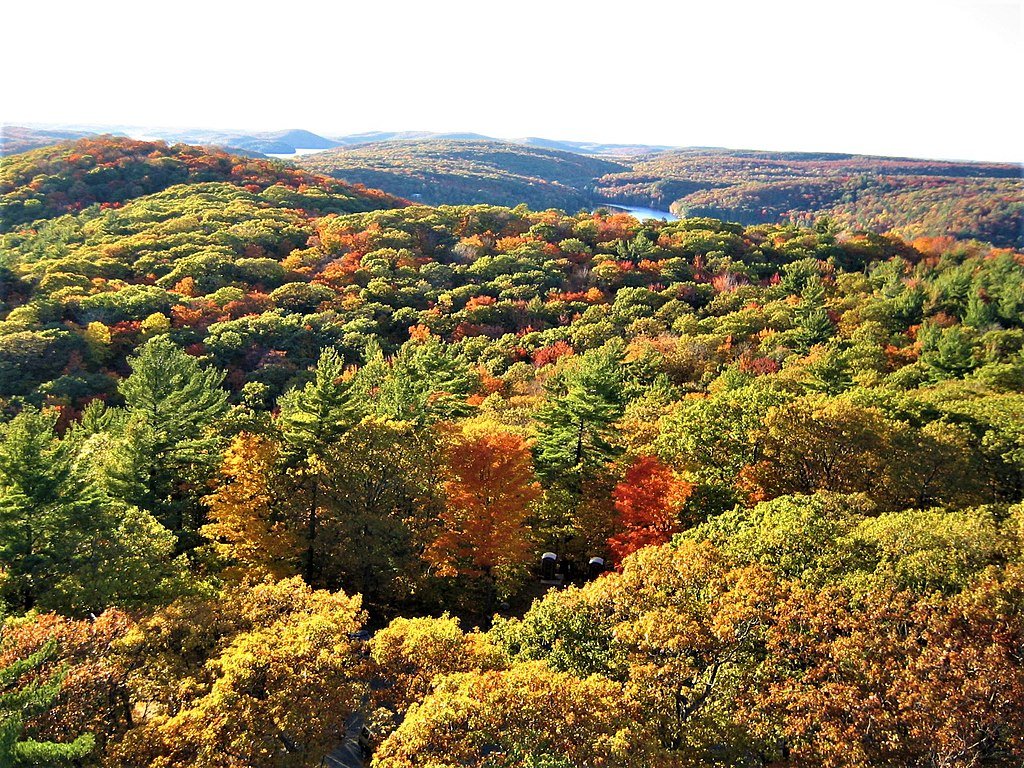 If you are paying attention, you might notice some of the interesting geological features in Algonquin park that are evidence of the last glaciation. You can find kettles – depressions formed by the retreating of a glacier, often filled with water to form kettle lakes; kame moraines – a hill or mound of sediment that is gathered in a indent on a glacier and then gets deposited when the glacier melts; and kame deltas – similar to a river delta but formed by melting glacial water that fans out into branches as it flows.
Check out this Autumn Day use guide from Ontario Parks for more information about trails in Algonquin. 
6. Killarney Provincial Park
Moving a little farther North, Killarney Provincial Park is one of my favourite spots for hiking and kayaking. Killarney boasts a long coastline on Georgian Bay, home to many hidden islands and inlets. This is perfect if you want to go for a paddle or camp in a remote location. But if you are just looking for a hike, Killarney also has medium and long trails that will reward you with spectacular views of the fall colours. Granite Ridge Trail, as the name suggests, takes you up to a granite outcrop looking out over Georgian Bay and the white quartzite mountain range called La Cloche. La Cloche Mountains formed during the Penokean mountain building event 1.8 billion years ago, and is part of the Canadian Shield. At its peak, these mountains were likely higher than the present-day Himalayas. La Cloche is composed largely of quartz sandstone that metamorphosed into quartzite.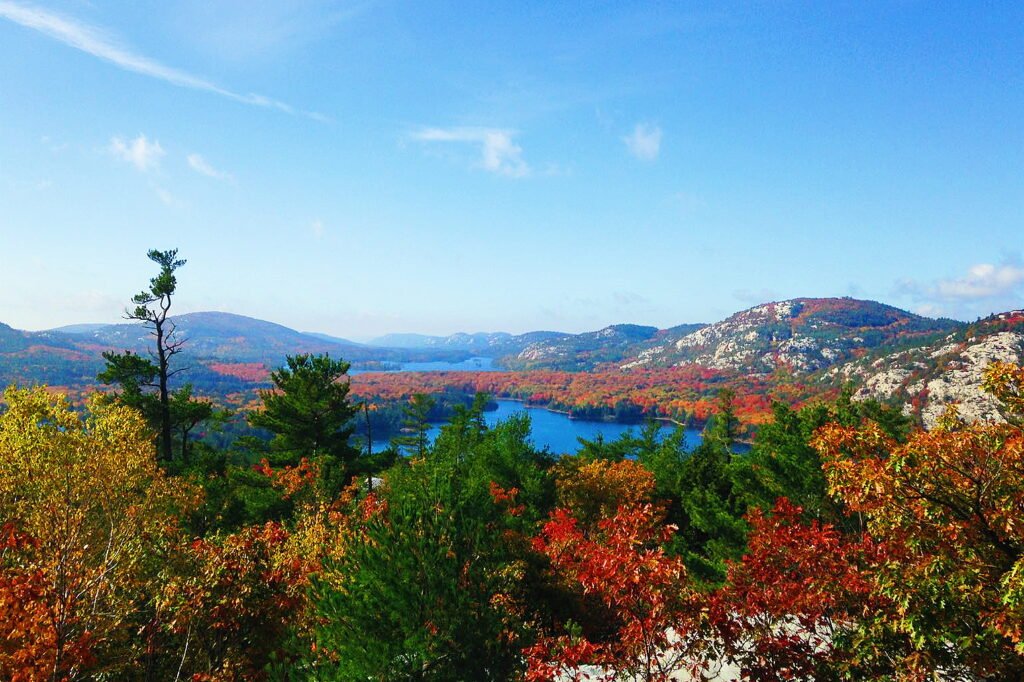 If you're looking for a bit of a longer hike with an amazing view, the trail called The Crack takes you through a cascade of boulders to a lookout over the mountain range. Although this is a very rewarding trail, please be aware that The Crack is extremely difficult and not designed for inexperienced hikers. If you do decide to brave the trail, please read Ontario Parks safety and preparation tips to ensure you stay safe on the hike.
7. Pukaskwa National Park
Speaking of challenging trails, Pukaskwa National Park boasts some of the most remote, untouched, and difficult trails in Ontario. The Coastal Trail takes you along the pristine coast of Lake Superior. This five day hike is not for the faint of heart, but with some preparation and hard work, you will be rewarded with quiet beaches, lichen-covered outcrops, and rugged spruce and pine trees bent over in the wind. If you want a shorter trail, try the White River Suspension Bridge Trail from Hattie Cove campground to the 6 story tall suspension bridge over the Chigamawinigum Falls. Note that Pukaskwa National Park is only open in three seasons and is closed from November to May.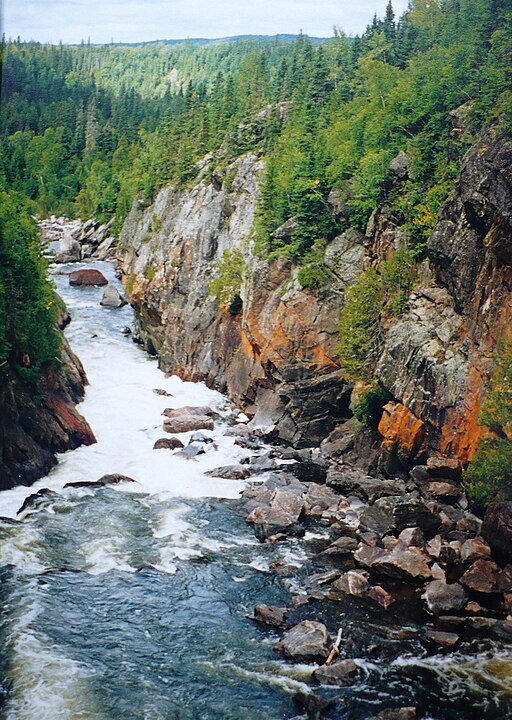 If you do choose to visit Pukaskwa, check out GeoscienceINFO.com's GeoTrail highlighting important landmarks, geology, and ecology of the area. Take a virtual tour of Pukaskwa, or let our GeoTrail guide you through the park. Find the GeoTrail here: https://geoscienceinfo.com/pukaskwa-georoute/
I hope you are encouraged to explore Ontario this autumn and enjoy the beautiful landscapes, fall trees, dramatic lookouts, and fascinating geology. 
---
Sources and additional resources:
Ontario Parks Accessible Hikes
Ultimate Ontario Beautiful Hikes
Explore: Ontario's 25 Best Hikes
Credit Valley Conservation Cheltenham Badlands
Ontario Heritage Trust Cheltenham Badlands
Algonquin Provincial Park Fire Tower Trail
Fall in Algonquin Provincial Park
Geology and Geomorphology of Algonquin
Parks Blogger Fall Trails of Algonquin
White River Suspension Bridge Trail at Pukaskwa National Park
Justin and Lauren Travel Guide Dundas Peak
---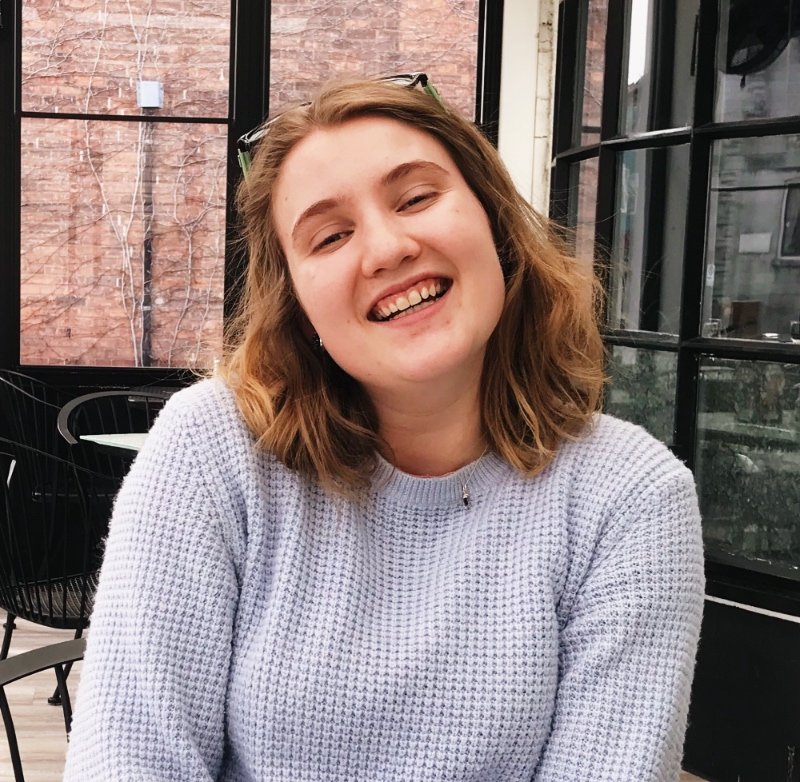 Veronica Klassen is the Manager of the Foundation's blog – Beneath Your Feet: A Geoscience Blog. She studied Arts and Science at McMaster University with a minor in Earth Science and has a Master's in Science Communication from Laurentian University. She is passionate about making science accessible and engaging to the public